Pan Am Videos on YouTube
---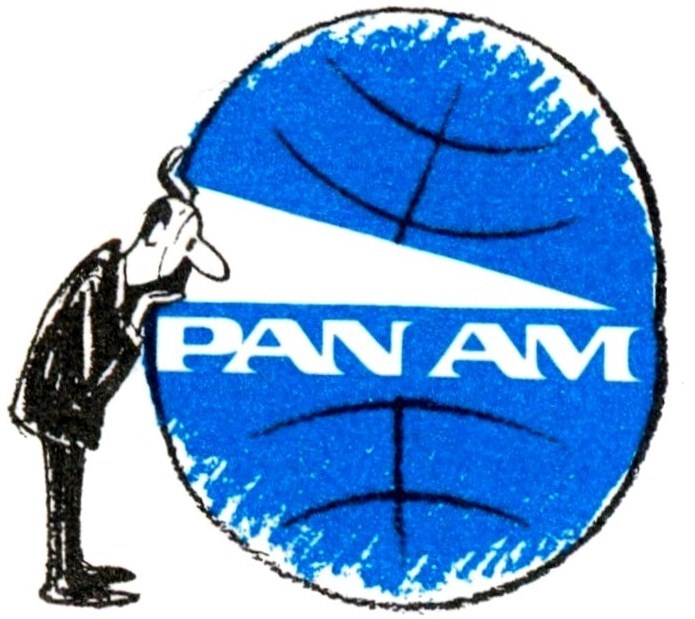 everythingPanAm.com
The Virtual Pan Am Museum
Through the years Pan Am produced a great deal of moving images to promote both destinations and aircraft. The company also produced training films for employees as well as radio & television commercials. Below are multiple links to Pan Am film & video clips located on YouTube with a brief description on the content of each link. Click on the image or blue underlined title to see the clip.

Once the film / video starts you can click on the gray box to the right of the volume control to expand the picture to full screen. To reduce the screen again click on the "X" to the right of the volume box.

When the film / video is complete you must click the "back" button on your web browser to return to everythingpanam.com to watch additonal clips
The link above has "news reel" style footage from 1935 of early Pan Am flying boat routes across the Pacific Ocean to China. Much of the footage shows Sikorsky S-42 flying boats which were used by the company for "proving" flights. Once scheduled service began the Martin M130 "China Clipper" flying boats were used on the route from San Francisco to Hong Kong.

This clip runs 7 minutes and 21 seconds.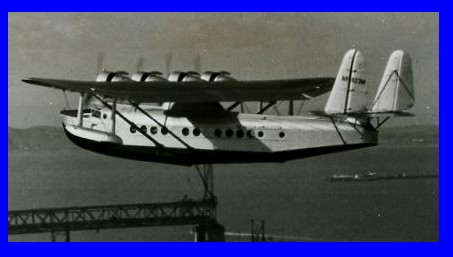 Above; S-42 used for "proving" flights. Below, M 130 used for scheduled flights.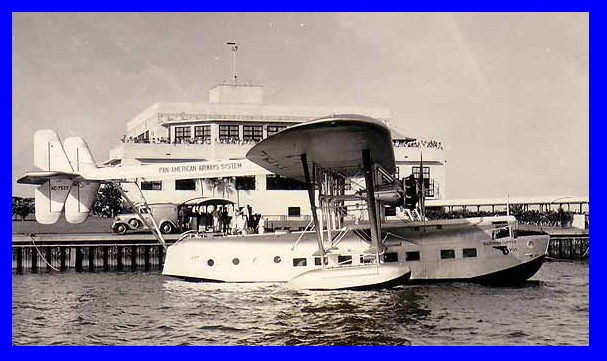 In the above link famed aircraft designer, Igor Sikorsky, speaks about the introduction of the Sikorsky S-40 flying boat (photo on left). This aircraft joined the Pan Am fleet in October of 1931. Igor Sikorsky designed several flying boats for Pan Am, including the (S-38, S-40, S-42, S-43). The Sikorsky Company is still an aircraft manufacturing company that produces helicopters

This clip runs 1 minute and 52 seconds.
The link above has "News Reel" footage of Pan Am's first flights to Europe in 1939 with the Boeing B314 "Yankee Clipper" flying boats (photo on left).

This clip runs 2 minutes and 24 seconds.
Please check back as additional content will be added to this page.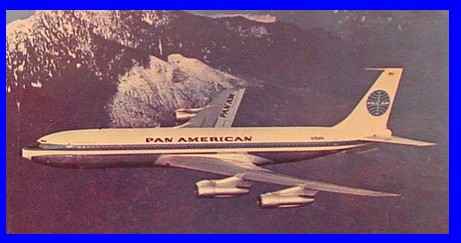 This link has a short film clip on Pan Am's early Boeing 707 service which was launched on October 26, 1958 between New York City and Paris, France. The focus of this footage is the 707 cabin features, amenities and elaborate meal service offered in-flight.

This clip runs 2 minutes and 56 seconds.
This film clip was produced by Pan Am in 1977 for the 50th Anniversary of the founding of the company. It gives a brief history of the Boeing 747 and 747SP (Special Performance).

The clip also has some footage of earlier Pan Am aircraft towards the end.

This clip runs 3 minutes and 31 seconds.