Pan Am Uniform Wings
Through the years Pan American staff wore a series of uniform wings depicting rank and responsibility. The company's first series of wings were rather large and simple. In the 1930s the company expanded the number of wing types and kept this style until 1944 when the company logo was modified.

---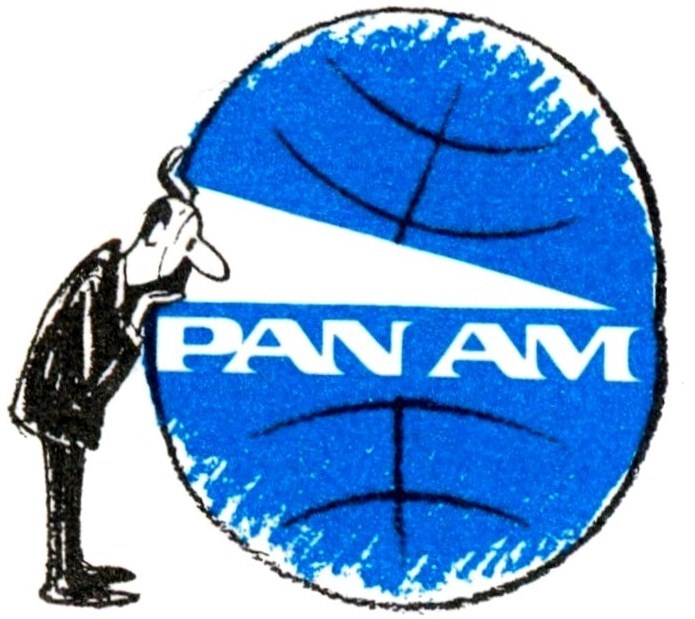 everythingPanAm.com
The Virtual Pan Am Museum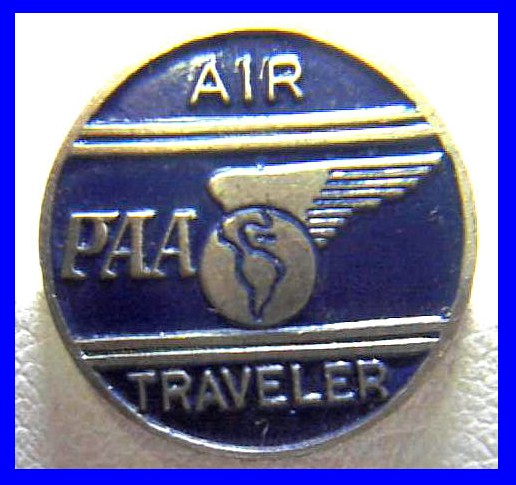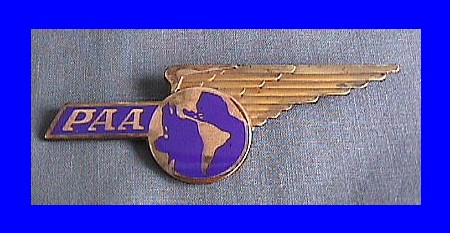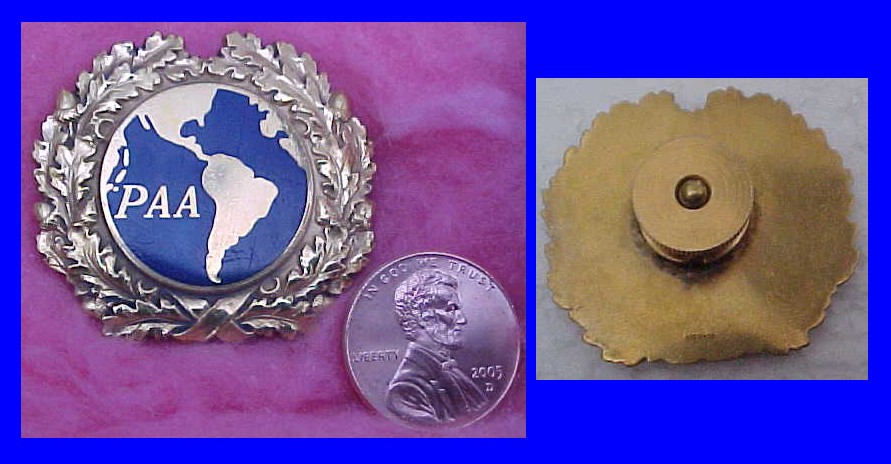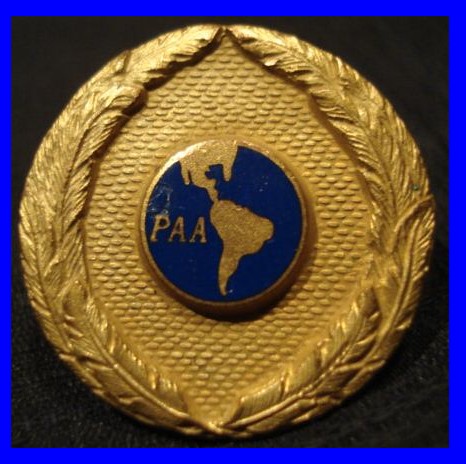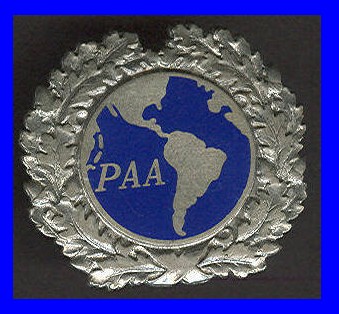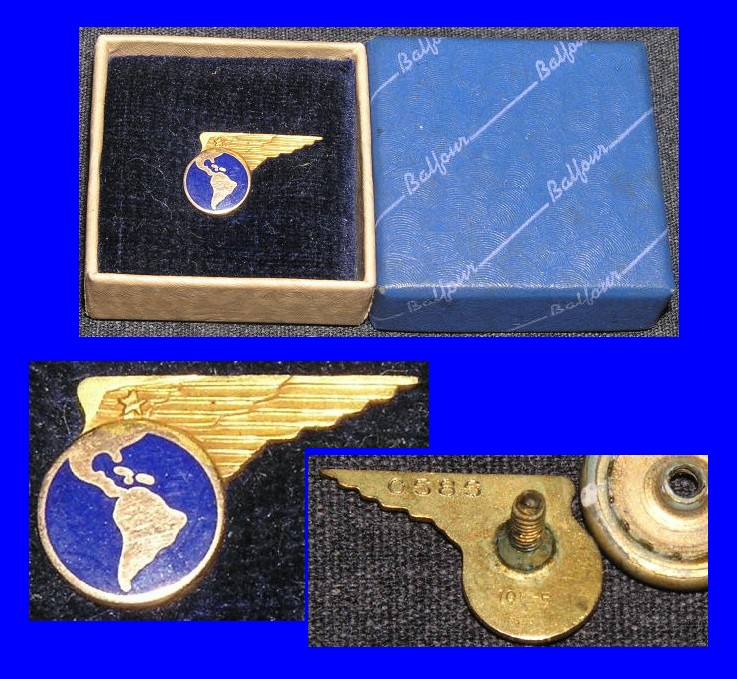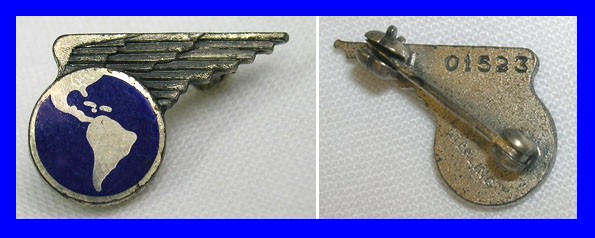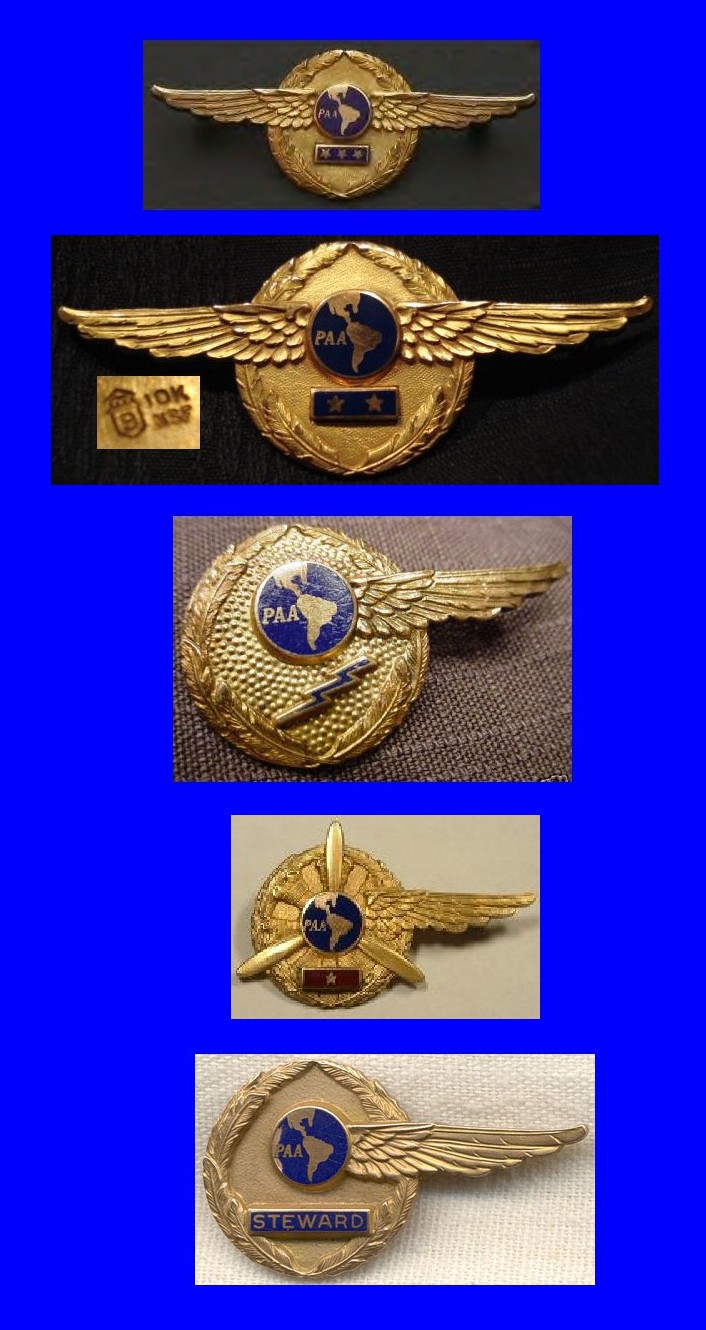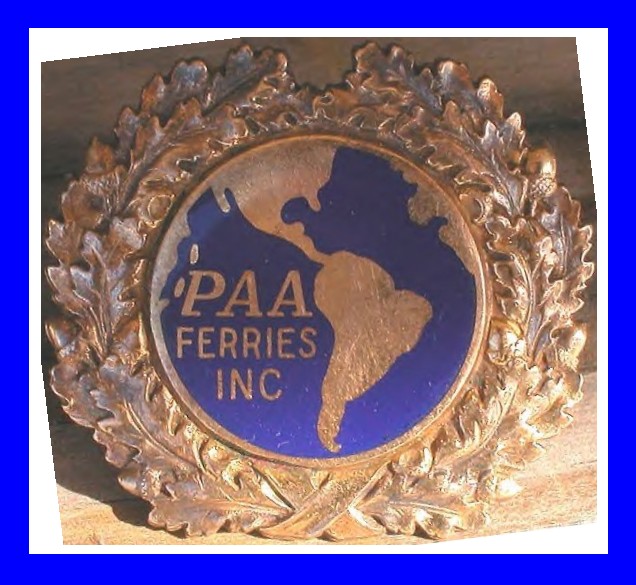 Below, an early Pan American Airways Radio Operator's breast pin
An early Pan American Airway customer pin. It is not clear whether this pin was issued by the airline or sold as a souvenir at airports.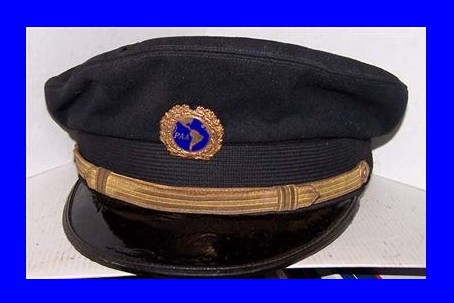 In the 1930s Pan Am created an extensive series of wings and insignia pins that covered every type of ground staff. These wings would be worn until the late 1950s when Pan Am introduced the stylized globe logo. However, in 1944 the center wing "map" of North & South America would be changed to show The America to the left and Europe to the right with the Atlantic Ocean in between. Below is a company issued chart of the original 1930s versions of the wings & insignias.

Below are various pieces from this sereis of Insignia.
Flight Crew hat badge is gold plate.
Ground Staff & Flight Steward Hat Badge has smaller insignia
Senior Flight Steward Hat Badge is Silver
Flight Crew hat badge front an back positioned next to a penny for size comparison.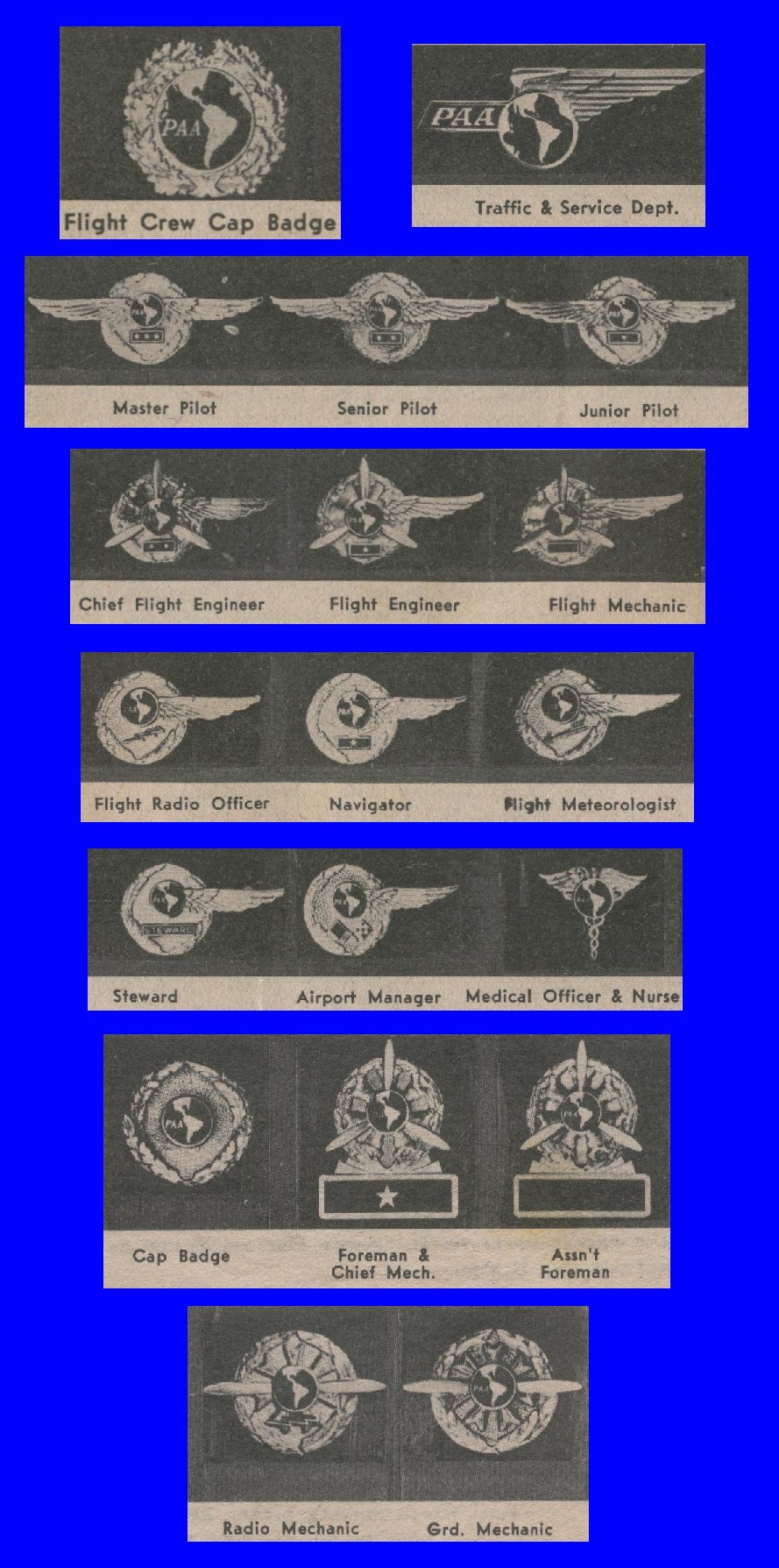 Master Pilot Wings
Senior Pilot Wings
Flight Radio Officer
Flight Engineer
Flight Steward
I have not yet acquired color images of other pieces from this series and will add them as they become available.
Pan Am was always excellent at presenting service pins and encouraging employees to wear them proudly. Below are two 1930s service pin styles.
1 Year Service Pin
is Silver
5 Year Service Pin
has one gold star.
Presentation Box
Soon after the outbreak of World War II Pan Am founder, Juan Trippe, attended an Aviation Forum in London. One night during the Forum he was summoned to Downing Street to have a secret meeting with Winston Churchill. Churchill was very interested in Pan Am's long haul flying and asked Trippe if he thought Pan Am's Boeing Clippers could fly from Brazil to Africa non-stop. At the time England was struggling to beat back the Germans in East Africa and Churchill was exploring the feasibility of getting "lend / lease" supplies to his troops. Trippe told Churchill that Pan Am could do the job. Soon after returning to the United States Trippe was summoned to a meeting at the White House with Franklin Roosevelt. The two world leaders were very keen for Pan Am to build airports across Africa. Not only would this greatly help the English troops in Egypt but it would allow the US to appear neutral as the work was being undertaken by a "private" company.

Immediately, Pan Am began to assign men and materials to the Africa project. Interestingly, the father of 2004 US Presidential hopeful Howard Dean was one of the key managers on the Africa project. For insurance and government billing purposes Pan Am created a subsidy "PAA Ferries" or "PAA Africa." Staff were transferred back and forth between Pan Am & the Africa project as needed. The project was a great success and soon Pan Am pilots were ferrying desperately needed supplies to Egypt & Sudan.

When working for the Africa project pilots and ground staff had to wear the subsidiaries insignia. The wings and pins are identical to the standard Pan Am pin shown above except that they have "PAA Ferries Inc" printed in the center map portion. These pins are very rare and highly collectible to both Pan Am & World War II memorabilia collectors. Below are several examples of these pins

PAA Ferries Inc.
Flight Crew
Hat Badge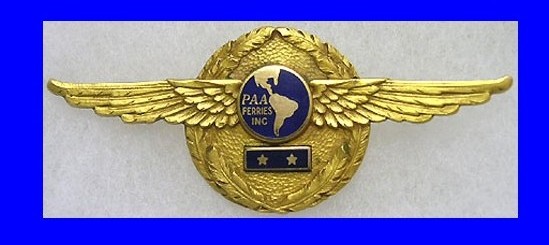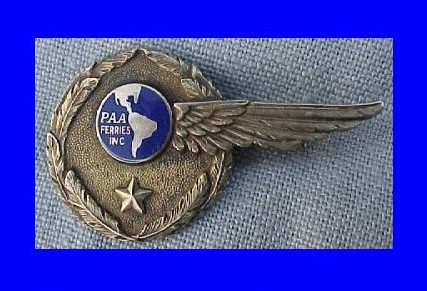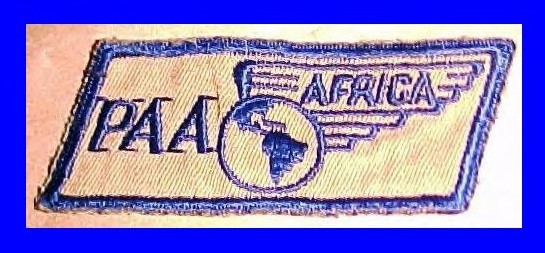 PAA Ferries Inc. Junior Pilot Wings
PAA Ferries Inc. Senior Pilot Wings
PAA Ferries Inc. Ground Cap Badge
PAA Ferries Inc. Lapel Pin
PAA Ferries Inc. Senior Ground Staff or Senior Flight Steward
PAA Ferries Inc. Uniform Shoulder Bar
PAA Ferries Inc. Ground Staff Uniform Patch
Not Pan Am issue. Most likely carved by an African craftsman and sold to crew members as a souvenir
Please check back as additional content will be added to this page
Ground Staff Breast Pin