Items Not Used In-Flight
Through the years Pan Am either produced or licensed the production of various promotional items and that included glasses. Though mass produced, according to crew members the below two styles of Pan Am glasses were never used in flight.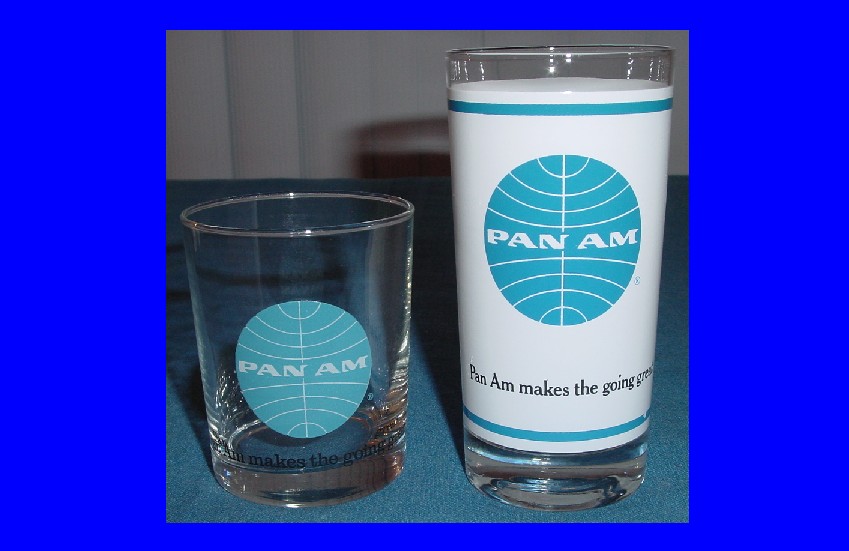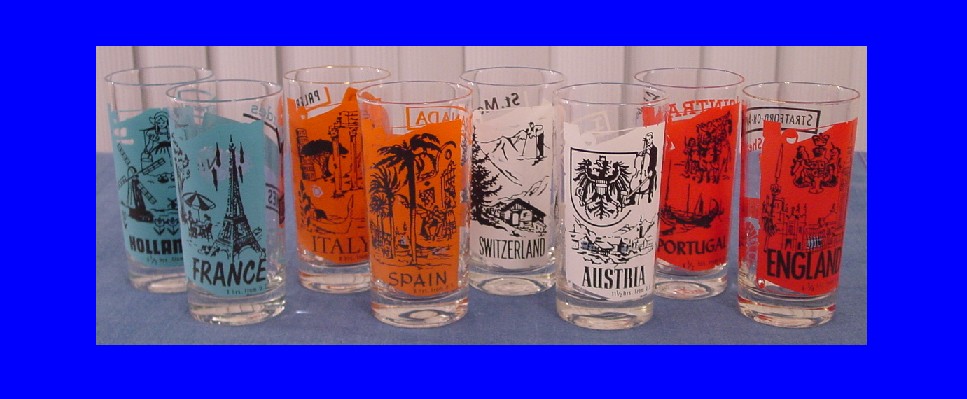 Pan Am II Catering Items
When Pan Am II was launched in 1996 the airline offered a First Class product in the Transcon market. Initially, plates and glasses were not branded or marked. In 1997 Pan Am II introduced the branded items below. Though they have a Pan Am logo the wine glasses are the same shape and size as the wine glasses used by Eastern Airlines before it ceased operations in January of 1991. The Eastern influance was due to the fact that Pan Am II was launched with many former assets and employees of Eastern. Below the glasses the three china items also show the Pan Am logo. The cup had no saucer and the round plate was rather small being used for salads, desserts and bread. The main course was served in the square casserole dish. Pan Am II shut down in February of 1998 making these items somewhat rare. The current Pan Am III has a "low cost" stragegy that does not include glass or china as part of its catering. The pieces are not very elegant and should not be confused with original Pan Am items. Occasionally, sellers will portray these pieces as original Pan Am.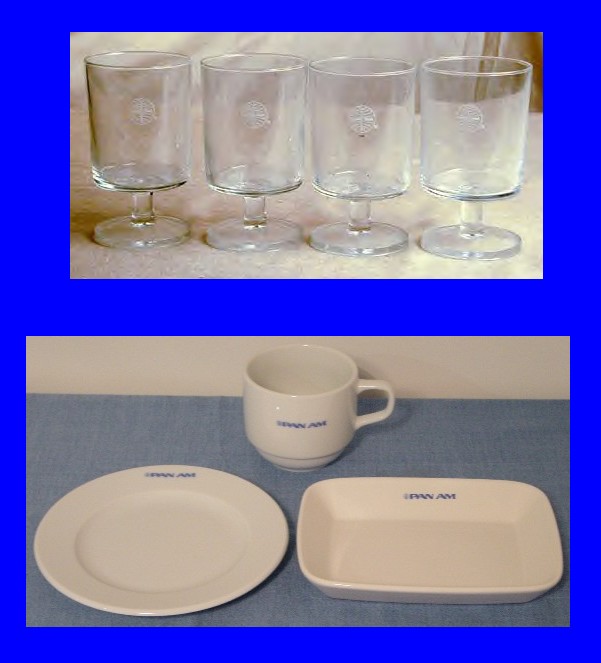 Pan Am Catering Items
Miscellaneous
---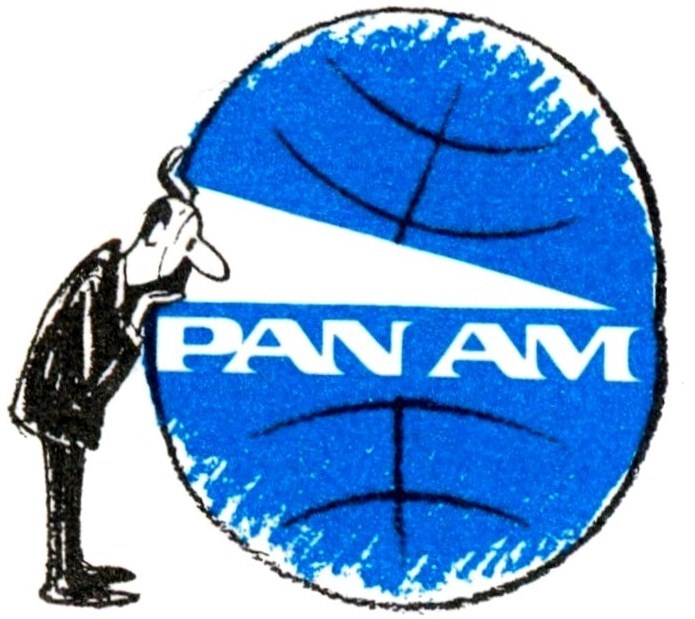 everythingPanAm.com
The Virtual Pan Am Museum
In the early 1970s a set of six mugs were produced by Pan Am in England as promotional material. The mugs were based on popular menu covers used by Pan Am in the 1960s depicting Clipper Ships on the high seas.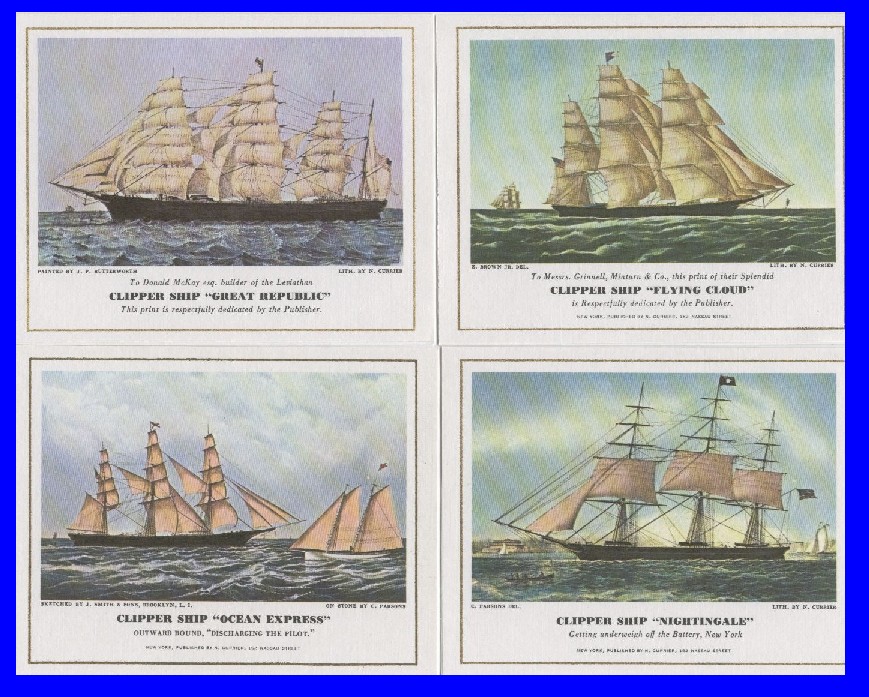 The 1960s Pan Am Clipper Ship menus upon which the above mugs are based.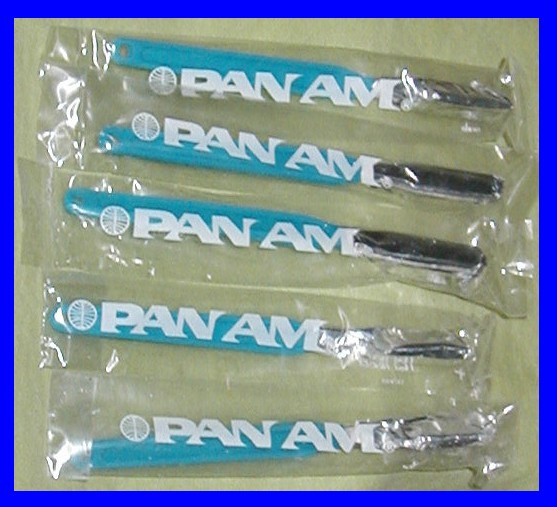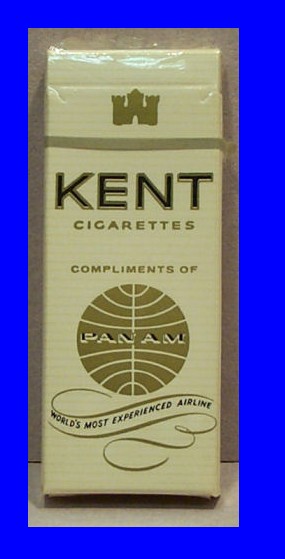 During the 1950s and early 1960s (before amenity kits were offered to customers) Pan Am provided Asian folding fans to First Class customers on flights departing from Tokyo. Multiple artwork designs appeared on the fans through the years. Below is a sample fan and presentation box.
.
Between 1958 and 1960 Pan Am introduced jet service to the majority of its key international destinations. The below two styles of "first flight" glasses were offered to customers who were on various inaugural flights.

Pan Am &
Delta
Interchange to Europe
May 1964

For this service a Delta aircraft was used from New Orleans to Atlanta and onto Washington DC and then a Pan Am aircraft was used onward to London & other European points.
In the 1960s Cigarette companies produced free samples that were placed on economy meal trays for long haul flights (left). In the 1980s in addition to First Class amenity kits First Class lavatories were stocked with pre-pasted toothbrushes. Customers unwrapped and wet the head of the brush. The brushing motion would activate the dried paste. (below).
Below are additional glasses given to customers to promote flights or fares. The glass below with the Russian & American flag was produced in 1988 when Pan Am & Russian airline Aeroflot introduced a jointly operated nonstop flight between New York & Moscow. Pan Am operated the aircraft and Aeroflot provided four flight attendants to assiste the Pan Am crew with service and language. Each airline was responsible for selling half the seats on the plane.
Jehovah's
Witness
Charter

"Peace on Earth" is the message of this wine glass used for a Jehovah's Witness Charter in 1968.
Los Angeles
to Tahiti
Non Stop
This glass was given to inaugural flight guests in the 1960s when Pan Am introduced nonstop service from Los Angeles to Tahiti.
New York -
London
Promotion


This glass mug from the late 1970s or early 1980s promoted Pan Am's budget fares to London. It would most likely have been given to travel agents rather than customers on a flight.
Port au Prince
Haiti Inaugural
1965
This glass with the official seal of both the United States and Haiti was given to customers for an inaugural flight in 1965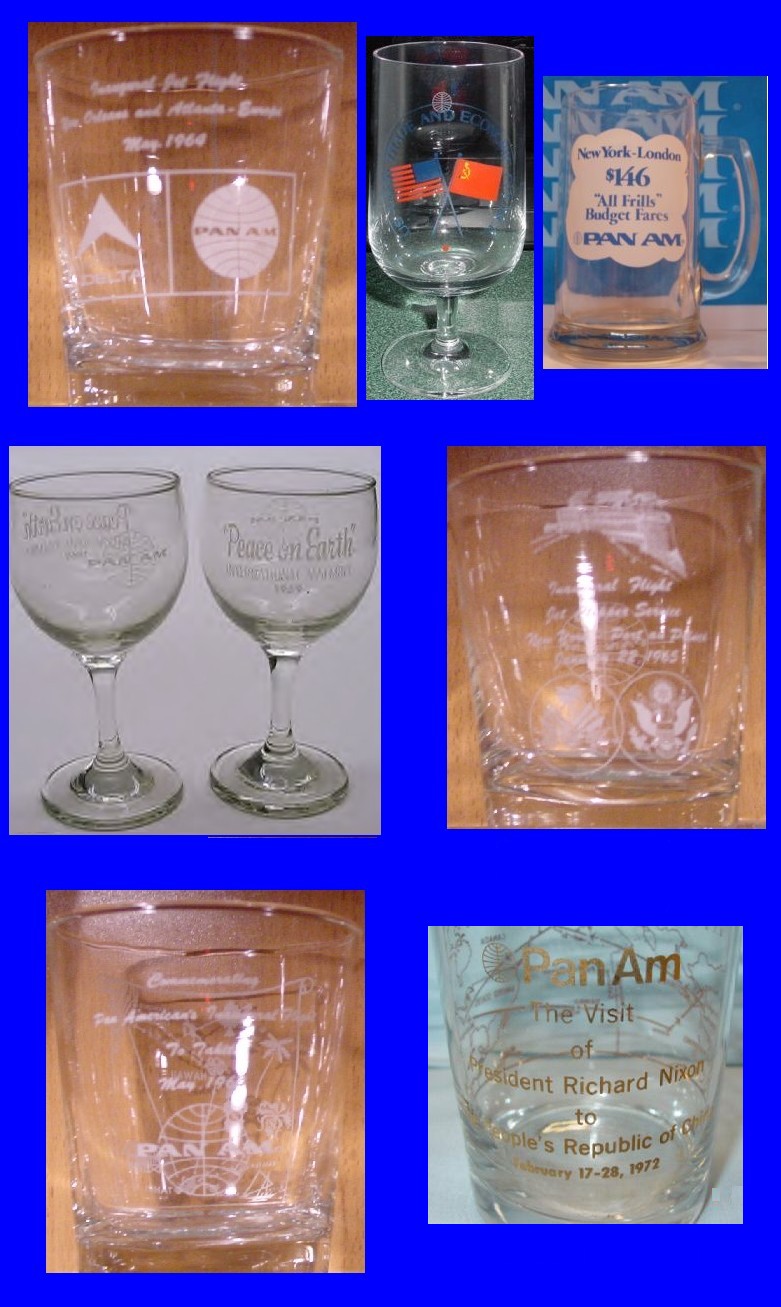 Nixon Goes
To China
1972
To commemorate President Nixon's historic visit to China in 1972 Pan Am produced special glasses for the passengers on the Press charters that accompanied Air Force One.