Pan Am II (1996 - 1998)
In early 1996 some financial investors retained former Pan Am President, Martin Shugrue, to re-launch Pan Am. Based in Miami Pan Am II had hoped to launch service in May. However, due to changes in the certification process (that occurred during Pan Am's filing) the launch was postponed. The inaugural flights were New York - JFK to Miami & Los Angeles in September of 1996. Below a crew from Pan Am II pose with an Airbus A300. The white uniform jackets worn by the ladies were reminiscent of the white serving jackets worn by flight stewards of the original Pan Am in the 1950s and 1960s.
Pan Am II began with a fleet of three former Eastern Airlines Airbus A300s and grew to a fleet of five adding frequencies to Miami & Los Angeles as well as adding JFK-San Juan Service.
The fact that Pan Am had planned to launch service in May of 1996 and was delayed until September put the new company in a precarious financial state from the moment it took to the air as the company had full flight crews on payroll from May to September without any revenues being generated. Additionally, American Airlines & United Airlines very aggressively matched the new Pan Am's fares in markets where they competed.
Additionally, at the time Pan Am was the only operator of the A300 to Los Angeles and when there was a mechanical malfunction it was hard to get replacement parts. Several severe delays in the summer of 1997 tarnished the service reputation of the new airline.
Meanwhile in Fort Lauderdale Carnival Air Lines a subsidiary of Carnival Cruise Lines was having problems of its own. The airline had been formed to fly customers to Carnival's casino in Nassau, Bahamas. Carnival Air Lines had grown out of its original mission and had flourished as a low cost carrier in the Northeast - Florida market.
In the spring of 1996 a low cost carrier named Valuejet experienced a dramatic and highly publicized crash in the Florida everglades. For a time after this many people shied away from low cost carriers fearing that their maintenance practices were not up to industry standard. This was not true of Carnival but it still suffered from the perception.
With losses mounting in the fall of 1997 Pan Am & Carnival Air Lines decided to merge. The Arison family, owners of Carnival, agreed to provide financing for the new company which would keep the Pan Am name. Along with the financing the Arison's wanted new leadership at merged company and Marty Shugrue was replaced by David Banmiller. Below a Pan Am II ticket jacket with travel "terms and conditions" inside.
Sadly, the combined companies were not viable and in February of 1998 Pan Am II ceased all operations and entered Chapter 11. Initially, there were several expressions of interest in the company. The bankruptcy judge was a great fan of the original airline and he wanted to see the Pan Am name flying proudly again. Eventually a deal was worked out and Guilford transportation acquired the Pan Am name & assets.
Guilford moved the Pan Am offices from Florida to Portsmouth, New Hampshire and re-launched Pan Am (III) as a low-cost carrier with service from limited cities in the Northeast to Sanford airport in Orlando, Florida. Service to Florida was operated with a fleet of Boeing 727-200 aircraft configured with all economy seating. Pan Am tried several different strategies to grow their Florida operation and even offered service beyond Florida to Puerto Rico. In addition to limited scheduled service Pan Am III operated charter services. Guilford transportation created several subsidiaries including Boston-Maine airways and Clipper Connection which operated commuter flights.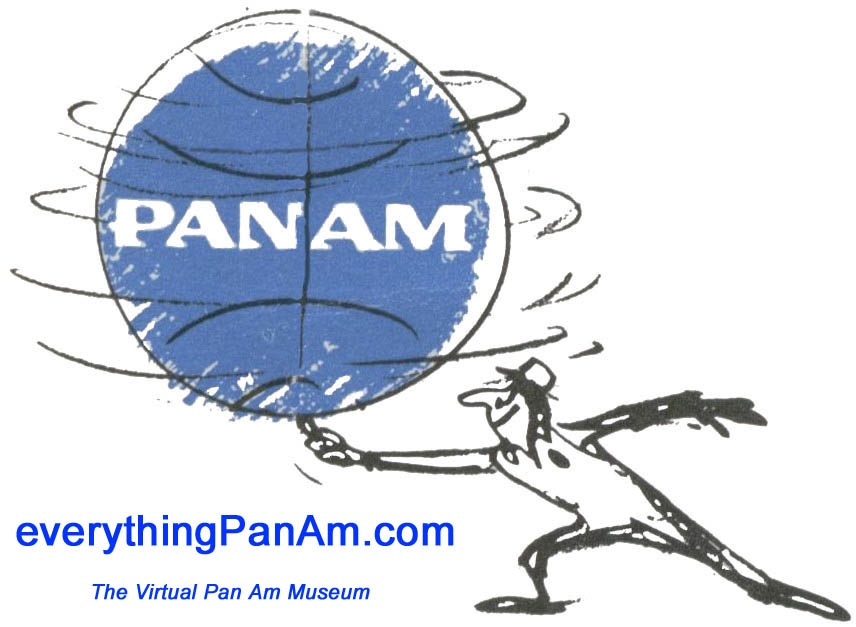 ---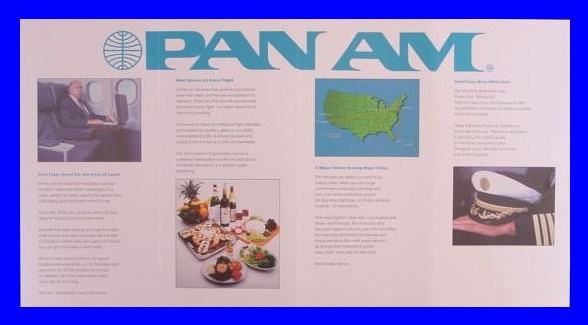 The Pan Am II business strategy was to offer First Class service in the New York - Los Angeles market at full fare economy prices of about $500 one way. United Airlines, American Airlines & TWA chose to match the Pan Am fares and Pan Am II was unable to attract enough passengers to sustain the service. To the left is a brochure promoting Pan Am's deluxe service at modest prices.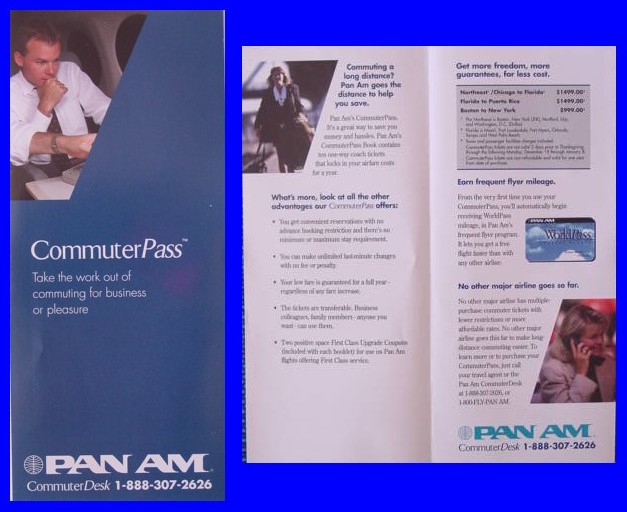 In the New York - Florida market Pan Am II attempted to gain market share by introducing "commuter" programs. The deeply discounted tickets were intended to lock in regular customers especially during the winter months when many New Yorkers travel back & forth to Miami & Ft. Lauderdale. If Pan Am II had lasted longer the program might have caught on.
Commuter
Booklets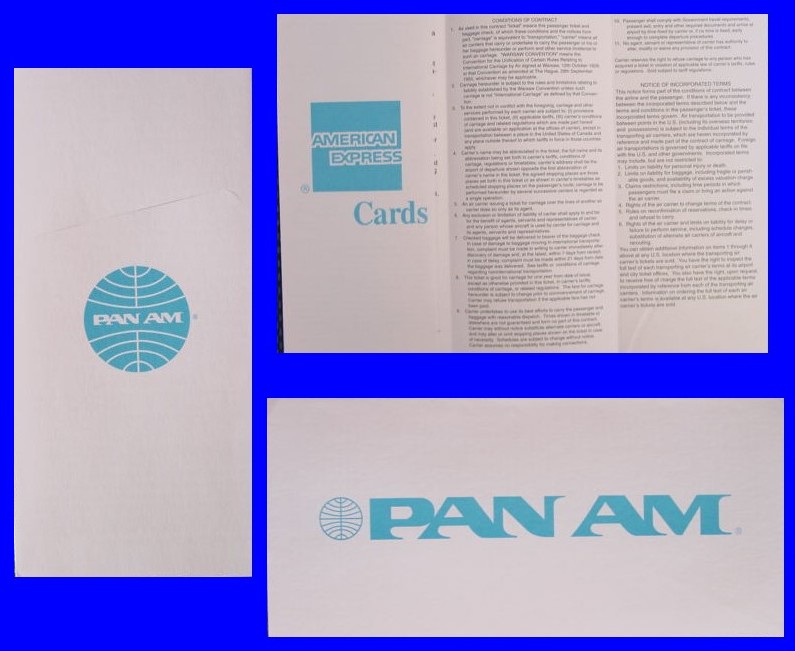 As Guilford Transportation is primarily a train company it chose to rebrand some trains with the Pan Am livery. This was done before the airline operation was discontinued. Pan Am Transportation rail cars can be seen around the Northeast of the United States. An example can be seen to the right crossing an overpass in New York City.
Pan Am III (1998 - 2008)
Pan Am
Trains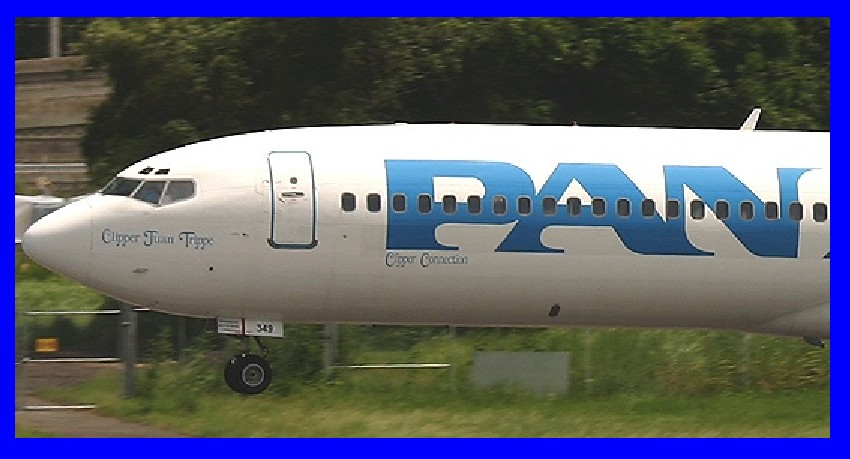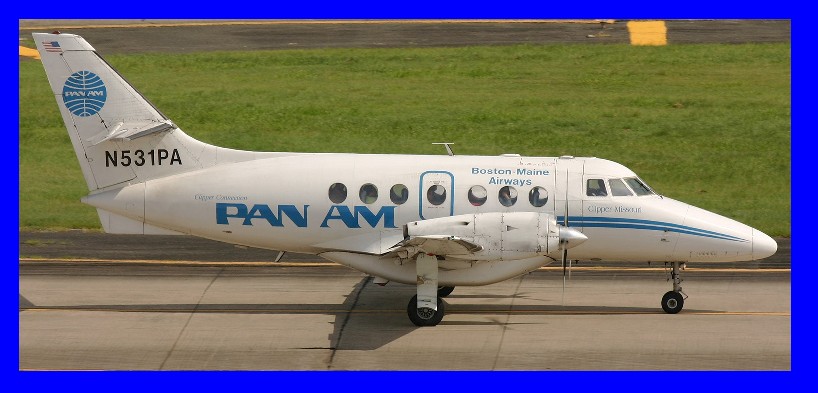 To reduce costs after September 11, 2001 Guilford transferred the fleet of 727s to subsidiary "Clipper Connection" and added "Clipper Connection" titles to the fleet under the "P" of the larger 'Pan Am' livery which can be seen in the photo below.
Though Guilford explored many ways to make Pan Am Clipper Connection viable rising fuel prices took a toll and the airline ceased operations at the end of February 2008. To my knowledge there are no current plans to revive or re-launch any airline operations.
Airline Operations
Cease in 2008